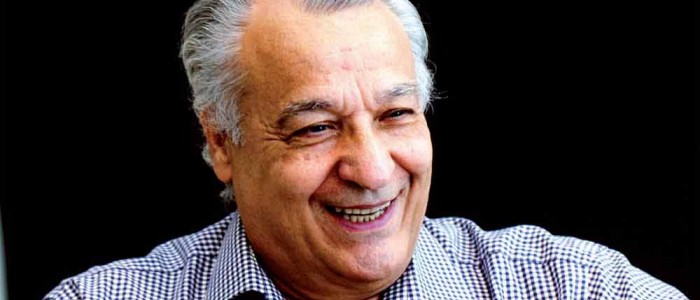 Norberto Barrera, 42 years in DR
Do we belong to the place we were born or we live? It is a question we might ask Norberto Barrera, who after 42 years in DR feels as Dominican as Spanish.
The 42 years of experience in the Dominican Republic is a record that not many foreigners have achieved in the country. From his position he has managed a number of contacts by demonstrating much empathy and that knowledge is what allows him today to advise all new comers, either big or small.
​It is a pleasure to talk to someone who has so many stories to tell but above all has seen this country "to grow". We moved to 1974 and spoke with the General Manager of a pharmaceutical company who fly from Spain to Santo Domingo to start a new stage in his life. Since 1981 he has been the support of the Spanish entrepreneurs at the Commercial Office of the Embassy of Spain in DR.
​ How was your arrival to DR? What are your first impressions?
​The first memory I have is a big punch of tropical heat, while I was getting off the plane at four o clock in the morning. I threw myself into the adventure and accepted the offer of a position in a pharmaceutical company. Santo Domingo was a small town that only reached Abraham Lincoln Street, you could drive comfortably. The people were very friendly, loving, fun, extroverted, and very reliable. In general term Spaniards were very well welcome here.
​ How was that first professional experience?
​At that time there were very few foreign investment companies. The country was very easy to handle. Everything was fine until the company decided to experiment with baby food products without success, that's why I returned to Spain in 1981.
​ When you returned to Spain did you plan to stay?
​At that time the idea was to open an office at the Embassy of Spain in DR and the destiny chose me, on December 1981 I went back to DR again where I have been in the position until September 2014, 32 years of continuous work.
​ What was your role at the Embassy?
​I was Marketing Analyst. I have met 13 Ambassadors from Spain over my career in the Commercial Office.
​ After 32 years working at the embassy, do you have many stories to tell, don't you?
​At that time the applications were received by ship if they were catalogs or by plane if letters. Communication by telex was not easy, then fax arrived and the office became computerized during the early 90s. A businessman of Miranda de Ebro came late in the 80s to sell amenities to the first hotels but he failed. He finally succeeded in the business of jams. By the way, he was the first man who told me about the fax and he impressed me!
​Throughout these years I have seen all kinds of companies and entrepreneurs those who have succeeded, those who have failed … all with unforgettable anecdotes. I know supermarket employees who have become owners of their own chains.
​I liked my work, especially, customer service. I always had a maxim that has worked for me "do good and don't look at who", the investors have received the same treatment both small and millionaires. Actually, I have received great displays of affection and gratitude. In 2013 I was awarded a Medal of Civil Merit by Ambassador of Spain in DR, Jaime de la Cadena. I have to thank the Ambassador for his involvement in this recognition as well as all friends and family who accompanied me at that time.
​ How did you experience the country's opening to tourism?
​I've witnessed as from first power generation plant to the first tourist and beaches exploitation. Thanks to people's sympathy, you felt the luckiest person of the world in the first all-inclusive resort of the country while having paella on the beach and an almost hot coke.
Three Tips for an employer who wants to settle in the country
​First, "stick to what you know, let the cobbler stick to his last. The biggest failures I've seen are those investors who want to make a change in their life. They engaged in an activity and want to start one completely different.
​Second, sometimes I realize, after all these years, there are phrases that seem topics but they are not, they are very close to reality. For example, "I already know this, I saw it in Cuba," and I thought … he will fail, Cuba is Cuba, DR is DR and Santiago is Santiago.
​Men tend to believe they always know everything; in general they have many prejudices at a time to ask certain things. My second tip is that all men become in women, just a little bit, because all women who have gone through my office, have asked absolutely everything, without complexes. Here the more information you have the better, then it can be used at your convenience.
​Third, "in the export market you should not sell what you have but what is demanded." Sometimes your product has to adapt to market needs.
​The Dominican idiosyncrasy is consumption, they don't think about the future, we must adapt. Here there have been hurricanes, there have been wars, they do not think in medium-term period. You would never trust an easy business. Your business has to operate and be profitable doing all the right things legally, paying taxes. You must be very careful and do not rely on contact or facilitators because if your business depends on them and they disappear your business is gone as well.
​ What do you miss about Spain?
​I spent 15 years living on a provisional basis, I always thought that this ended and just a few time left to go. I try to adapt to the peculiarities of each country, the people, the food …. In the Dominican Republic I feel great, I focus on positive things, there are plenty of that. In fact when I travel, in some point I want to come back, to my home. I've learned not to miss things I have in my country, as a simple orange and to appreciate the wonderful mango this land offers me.
​One year ago I star ted a new project of Consultancy and Advice for Spanish companies that want to establish themselves or conduct any business in the country, and that is my dream today, I'm being the protagonist of my International Pal project. We are currently working on about 10 major projects, 80% of the public sector, energy, water, sanitation, technology, and consulting to private companies and new investors who come into the country and truly have very good results.
Fuente: Bacana Magazine.
WSI Genesis
WSI Genesis is an open source Content Management System (CMS) based on Wordpress, often used as a blog publishing application, powered by PHP and MySQL. It has many features including a plug-in architecture and a template system. WordPress is the most popular CMS in use today.